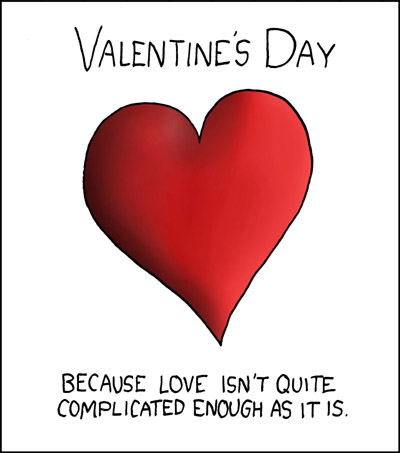 Valentine's Day provokes a lot of strange emotional reactions: denial, sorrow, excitement, nervousness, guilt, anxiety, etc.
What I'm here to tell you is that everyone needs to chill-the-Valentine's-Day-out.
This day is not holy, religious, or particularly crucial to the existence of mankind.
Just think about it like Halloween- some tradition picked up somewhere along the line that some people get really into and others don't. And where we get to eat lots of candy without any guilt.
According to two men whom I accosted at Cafe Habana (thanx guys! you're the best), men don't even care about Valentine's Day. They only pretend to care about it because most women do. To them, it is just another football Sunday.
They will go out of their way to do something sweet for their lady (if they have one) but only if she makes it clear that this is an important day to her.
So for the committed ladies: If you care, tell him. And don't pretend not to care if you actually do care, because if he doesn't do anything for you per your behavior towards the holiday, this will just end up resulting in unintentional, yet tangible resentment towards your significant other.
Yet don't dictate plans for V- day either- if you have made it clear to him that you are down with V-day affection, let him use this as a chance to show you what you mean to him- and no, that doesn't mean if the chocolate isn't Godiva or the flowers aren't roses that he doesn't care about you- he went out of his way to engage in a sentimental holiday that he couldn't care less about because he does care about you, no matter what the gift is that he gives.
Gift: Do or don't? The best gift that a woman can give her boyfriend is a fun card and a viewing of lacy lingerie post-dinner. And if you are adventurous, get on the baking- everyone loves cookies and cupcakes.
For the committed men: Don't be morons. If she has hinted to you about dinner reservations even once, that means she cares. And if you are reading this blog and still haven't made one, your head is as thick as Skippy Peanut Butter. You do have alternatives to taking her out to dinner though- cooking dinner, for one, or- I thought this was adorable- as my friend at Cafe Habana did- getting her favorite takeout from all different restaurants- ie, chocolate cake from one place, mac n cheese from the mac and cheese place, pad thai from her favorite Thai restaurant, all capped off with a bottle of her favorite wine. Remember, you want to show her that you have made an effort.
You don't have to go crazy finding the right gift- a bouquet of red roses (or if you want to change it up, pink or yellow) and a thoughtful or funny card will do plenty to sweep her off her feet. And if you really like her and have the cash, jewelry never hurts.
For the in-between men: If you are dating a girl, and you really like her and want things to go somewhere, a good idea is to take her out on Valentine's Day. Your willingness to invite her out on a day traditionally reserved for couples will show her that you are serious about her. But hold off on the gift parade- a single red rose is just intimate enough to say, "I think you are beautiful and sexy," but a card, flowers, and chocolate will probably send her running before your table is ready.
If you don't want to get serious with the girl you are dating, do not take her out on Valentine's Day- this will send her the wrong message and she will end up attached to you like half of America is to Family Guy.  You two can meet up another night.
For the in- between women: He invited you out to dinner. What do you do?
First, only say yes if you really like him, although let's hope that you do since you are dating the guy.
Gift: do or don't? Don't. Just take extra care to look pretty, smell nice, be attentive and positive for the night,  and maybe, just maybe, wear cute undergarments
And make an extra effort to act like a lady- hold the spitting and burping for another night, please (although, for the love of G-d, I hope you never do this in front of men anyways other than your brother).
Single men: If there was ever a better day to find a single woman, I don't know what that day would be. Everyone out on Valentine's night is virtually guaranteed to be single. So you can walk up to women with an extra bit of confidence- because also, if she is out, she is not just single but S+L— single and looking.
Single ladies: Save the Ben and Jerry's for a hot day in July. Use this day to think about the people you do love in your life, your family, your friends, whoever. This is an awesome day to chill with your other single friends, to A) realize how many women are also single and B) to live up your single life by perusing the bar at night for equally single men. How fun
Just remember, men are temporary, but friends, at least the good ones, are forever.
But above anything else, remember to enjoy your day, your lovers, your friends, whatever. Because A) It is a holiday and holidays= celebration, and B) You don't have to work on Monday. I mean, really, what could be better?
For some good places to hunt and have a blast on the V-day, check out this blog: http://www.asylum.com/2010/02/11/celebrate-your-singledom-this-valentines-day/
and for couples looking for some romance, check out this one:
http://www.asylum.com/2010/02/11/new-york-city-valentines-day-guide-restaurants-events/
and of course, courtesy of the lovely Ms. Jacinto,  recession friendly Valentine's tips:
http://www.minyanville.com/lifemoney/articles/valentines-day-plans-money-gifts-love/2/11/2010/id/26827?camp=syndication&medium=portals&from=yahoo
XOXO- The Dating Diva